รายละเอียดเพิ่มเติม
CLUX-18S - 1x8 HDMI 1.3 Splitter
กล่องแยก-กระจายสัญญาณเข้า 1 ออก 8 แบบ HDMI ต่อสัญญาณได้ไกลถึง 15 ม. รองรับความละเอียดที่ 1080p@60Hz(12bit) มีวงจรขยายในตัวช่วยชดเชยสัญญาญภาพที่สูญเสีย รองรับการเข้ารหัส Full HDCP ใช้งานกับหัวแปลง DVI to HDMI ได้
Features
HDMI 1.3, HDCP1.1 and DVI1.0 compliant Receiver.
Deep color video up to 12bit, 1080p@60Hz.
One HDMI source to connect to one HDMI display simultaneously.
HDCP keysets allows each output to work independently when connecting to a HDMI display.
Split a HDMI source to one output without signal loss.
Supports DVI source and DVI display by using HDMI to/from DVI adaptor cable.
Dolby Digital, DTS digital audio transmission (32-192 kHz Fs sample rate).
Supports a wide range of PC and HDTV resolutions from VGA to UXGA and 480i to 1080p.
HDMI cable distance test with 1080p resolution: Input/Output source can run up to 30M/5.1CH.
Full HDCP Compliant.
Note:
Cable tested with 24AWG using cables of another type may result in a different operating distance.
Cable distance test included the following: PS3 120G and 37" Samsung 12-bit LCD TV.
Figures provided in this manual are reference figures only, actual figures may depend on source and display use with cable specification.

Diagram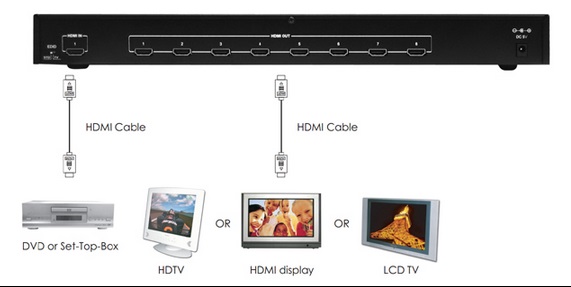 Specifications
Frequency Bandwidth : 2.25Gbps (single link)
Input Port : 1x HDMI female port (Type A connector)
Output Port : 8 x HDMI female ports
Power Supply : 5VDC/5A (US/EU standards, CE/FCC/UL certified)
Dimensions (mm) : 436(W) x 160(D) x 44(H)
Weight(g) : 2000
Chassis Material : Metal
Silkscreen Color : Black
Operating Temperature : Operating from 0°C ~ 40°C